Obtaining a Russian visa is usually the first thing you need to do if you wish to immigrate to Russia or just visit the country.Though some states (like Belarus, Kazakhstan, South Africa and Brazil) enjoy a visa-free regime with Russia, Russian visa is required for most visitors including US, Canadian and UK citizens
Russian visa requirements differ depending on the purpose of your visit, duration of stay and citizenship. For example, Americans are eligible to apply for a three-year tourist visa, Canadians and British can get only a 90-day tourist visa, while Israeli passport holders are allowed to stay in Russia for up to 90 days without a visa.
Russian visa types
The purpose of your visit determines the type of visa you should apply for. Below are the most common types of Russian visa:
Tourist visa
Easy to obtain
Limited duration
Business visa
Ideal for businessmen and investors
Multiple-entry options are available
Work visa
Allows to work in Russia
May become the first step to immigration to Russia
Student visa
Granted to students enrolled in academic or language courses
May become the first step to immigration to Russia
Private visa
Issued for private-purpose visits
Rather difficult to obtain
Please note that there is no immigration visa. Aspired immigrants are expected to apply for one of the visa types above.
---
Russian visa application
Russian visa application process includes obtaining an invitation from a Russian person / company / travel agency, preparing the package of documents and submitting them to a Russian embassy, consulate or visa center. Russian visa cost may vary depending on your citizenship and visa type. Usually it includes the consular fee and the service fee.
How to apply for a Russian visa?
There are two major options for Russian visa application:
On your own
You may study the process and prepare all the paperwork yourself, especially if you apply for a short-term tourist visa.
Visa service
We strongly advise to contact visa professionals if you apply for a long-term visa or if the receiving party is not able to take care of the visa support.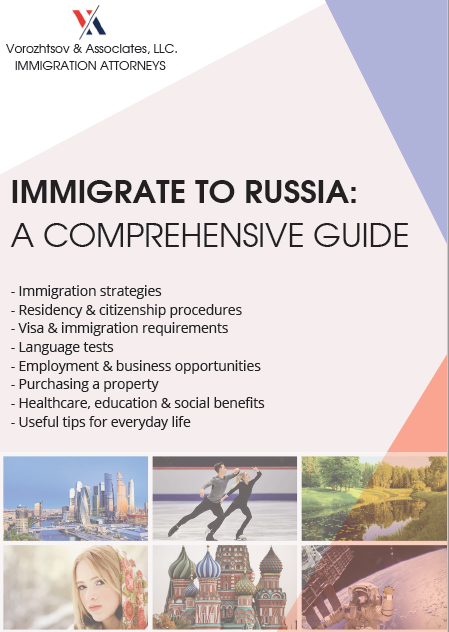 Immigrate to Russia: A Comprehensive Guide